Invention Story
The Idea!
"It's a robot fish that collects all the litter from the sea. Inside, it burns rubbish to keep it going. It also collects movement energy from the waves and fish from the fins. Humans control the robot fish. It has sensors so no fish are harmed."
Lainey
Image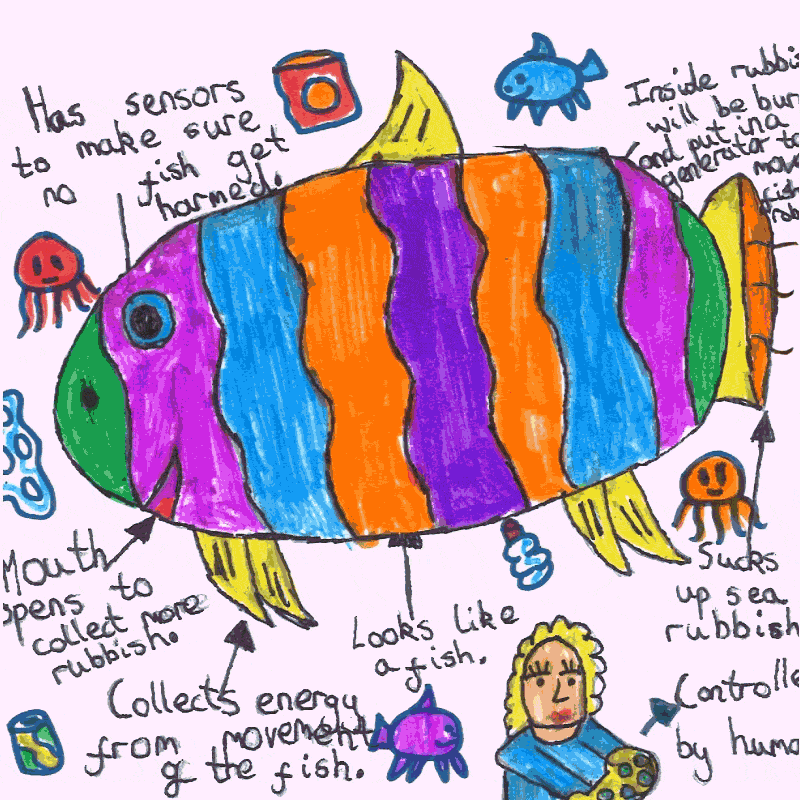 Lainey was inspired after watching David Attenborough and Blue Planet and she wanted to help. She represents her ideas through wonderful drawings with great artistic flair.
The Maker said...
Initial Ideas
"Absolutely loved this idea from Lainey. Our oceans, seas and rivers could really do with such a useful invention and the wonderfully detailed and well thought out drawing sparked a lot of ideas. I really like how the Sea Sweeper 1000 has potential to come in lots of different sizes and shapes too, maybe as big as a whale for somewhere like the Great Pacific garbage patch or a tiny little Pufferfish to collect microplastics on coral reefs.
Here are some drawings that I've made after studying Lainey's idea that explain a little more how I think the invention would work."
Rubbish recycler
The idea has so many useful applications.
It's a clever thought to power the Sea Sweeper by burning the rubbish it collects but I was thinking that perhaps there's so much rubbish in the sea that it might not even need that much energy to swim about!
So rather than waste extra energy I've been thinking about how the Sea Sweeper could collect and also sort the rubbish. Any items that are recyclable could be stored and brought back to be recycled.
Lainey's idea was inspiring on so many levels. Her care for the environment and how to layer ideas are impressive as is her artistic talent, and we can't wait to see what else she comes up with!